Another day gone... and it ended giving me something that i was waiting for a very long time... my new EOS 3000v Date camera !!! got this baby bundled with the EF 28-90 lenses for a nice price of 11500 bucks...
for the last few days i was eating Gaurav's head with all the seemingly stupid questions... though he being a professional fotographer for over 2 years now... was patient enough to listen to me and answer as many questions as he could.... we decided to go to Chandni Chawk to find out what the market was really like on saturday.. and see if i can find something that suits my level and pocket equally nicely....
there was no intention of a purchase... the idea was to do some research only... so there we were in one of the biggest photographers paradise at around 1030 hrs... not many shops had opened by then.. and we could talk to a few shops.. and one of the guys showed me 4 camers... the EOS 66, EOS Rebel K2, the EOS 3000V and the nikon f75. the first two under 10K, EOS 3Kv for 11500 and the F75 for about 14K.... nikon looked better in terms of the body quality... features not much different... canon better in terms of money.. and the one that i bought.. too cewl in terms of the feel good factor... and when i am to move up to digital SLRs in sometime.. it made sense to save money....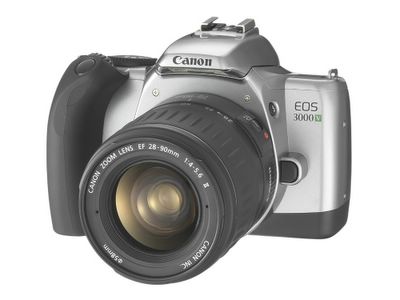 so we decide we want to buy that camera... did some price verification at a few more shops... did not realise that we had spent over 1 hour in that shop looking and talked about the various options that we had... anyway... we were hungry and did not want to loose the opportunity of treating our tummies especially when we were in chandni chaowk.... our first stop... "Gali Paranthe Wali".... ummmm.... paneer parantha... mix parantha, dal besan parantha..... and curd made from cow milk...pet bhar gaya.... and now that we wanted to burn some calories after being filled with guilt and the fat.. we decided to walk to Fatehpuri.... and then have the famour rabri faluda at Giani's.... umm... lovely stuff there... and we were too full and it was too hot to walk back to lal-quila.. so we took at rickshaw..who effortlessly drove in the middle of the road where rickshaws, cars, two-wheelers, autos, jeeps, and pedestrians beautifully coexistt...... we got down in front of the ICICI bank but the damn ATM was broken.. so i decided to give SBI some money.. 55 to be precise and take some money outta their ATM.... took out the money... bought a relay for the inverter which papa wanted.... and 10 CLF tubes... for 17 bucks each.. they usually cost anything between 25-40 bucks in noida... so money well saved....
our next stop.. the camera shop.. where i made the payment for the baby you see the foto of in this post.... fuji proplus pack of 5 for 220 bucks.. and a nova b/w roll for 37 bucks... and a UV filter for 25 bucks... did not like any of the bags... and so we fitted the camera in the bag that i was carrying and moved on to monestry.. where gaurav wanted to buy a jeans from...bought the jeans... walked around place.... and then back to the buss adda.... or ISBT as ppl know it... took at DTC back to ghar..
reached home happy :) lets see how much i improve with time... there is a lot of things to learn..... life's beautiful.... does that look equally cewl from the other side of the camera... TIME WILL TELL.....